Markers and Cardboard for Public Storage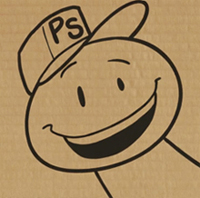 Pencil Test Studios, Inc. has completed three animated advertisements for Public Storage. Working with The Phelps Group integrated marketing communications (IMC) agency, the commercials mark Pencil Test Studios first animated contribution to Public Storages already fun and quirky ad campaign.
Created in a ''marker on cardboard'' style, the commercials follow ''Stickman'' as he journeys though a series of helpful storage tips and information: from navigating the PublicStorage.com web site, to showing the best ways to pack your stuff.
''Each commercial was designed to be both informative, and entertaining,'' said Mike Dietz, co-founder of Pencil Test Studios. ''The Phelps Group was great to work with and they were all really receptive to the funny ideas we came up with.''
While working on a tight schedule, Pencil Test Studios completed the three 90 second spots in about 8 weeks. ''The challenge was to quickly create visuals that were amusing. We really had a lot of fun with the characters, and each animator brought a lot of personality to 'Stickman,''' said Pencil Test Studios co-CEO, Ed Schofield.
Check our PublicStorage.com for more details.